JK Rowling wrote 'huge parts' of Harry Potter & the Philosopher's Stone in Edinburgh's Nicolson's cafe (not Nicholsons cafe, it was named after the street it sits on). Today its Spoon bistro. This is:
A history of Nicolson's evolution into much loved Spoon,
a review of Spoon and price hacking guide,
a record & video of the significance Nicolson's held to Rowling, and every Potter-head, as the Rowling anointed nursery* for Harry's first adventure.
* The original idea having struck on a train without paper!
Why lunch at Spoon?
According to The List magazine Spoon is a "Good-humoured eatery with casual all-day dining and chilled-out service delivering simply prepared bistro classics."
"My poached eggs with avocados on wholemeal toast was my favourite breakfast in over 2 months of travel in Europe. Thanks, Spoon!"


Spoon Edinburgh Tripadvisor
JK Rowling on Nicolsons
Witches & wizards signal their membership of their secret community by wearing purple in public. They might also frequent a purple café
This is Nicolson's. Where I wrote huge parts of the book. This was a really great place to write, because there were so many tables around here that I didn't feel too guilty about taking a table up too long and that was my favorite table. I always wanted to try and get that one because it was out of the way in the corner.
It was just great to look up when you were writing and stop and think about things and be able to look out on the street which was quite busy. They were pretty tolerant of me in here partly because one of the owners is my brother-in-law. And I used to say to them "Well you know it gets published, and I'll try and get you loads of publicity" and it was all just a big Joke. No-one ever dreamt for a moment that was going to happen.
Myth busting
Time Magazine 1999:
The Harry Potter books corresponded briefly with a bad patch in [Rowling's] personal life. She was newly divorced, temporarily out of work, on the dole and living in an unheated Edinburgh flat. To keep them both warm, she would wheel her young daughter into a cafe and sometimes jot down Harry Potter ideas on napkins.
JKR: "During the day I was writing in cafes as everyone famously knows, but could I just say for the record once and for all 'cause it's really irritating me: I did not write I in cafes to escape my unheated flat, because I am not stupid enough to rent an unheated flat in Edinburgh in midwinter.
It had heating."
---
Like Chinese whispers the compressed Time story became mythologised with claims Rowling was so poor she wrote the Philosopher's stone on napkins. Reading it Rowling screamed with laughter. It's 80,000 words, how would she have kept them ordered? Hole punched them and built leaning towers of punch-files?
"Fireman arrived on the scene to find a 28 year old woman crushed beneath a mountain of ink-blackened napkins. She was declared dead at the scene from severe head trauma."
Fortunately she wrote on paper pads.
Jessica's naptime = Harry's playtime
Rowling felt like she had had 'penniless divorcee lone parent' tattooed on her head. She described Harry's beginnings thus:
"Eccentric woman dashes into cafes every day, one arm on the buggy, hair everywhere, slings a pile of A4 papers down, orders espresso after espresso and writes madly. At night, back in her grotty bedsit after Jessica falls asleep, she writes a bit more. Without writing, she'd go stark, raving mad."
Rowling said "Writing Harry Potter is the most fun you can have without anyone else present."
Hermoine, Ron & Harry wheeling around a whole new world, belittled and belittling, discovering and being entrapped. Rowling was transported from her life of worrying whether she would be able to afford growing Jessica's next set of shoes.
Spoon's large windows reach from waist height to above Hagrid's head. You can imagine Rowling writing, her caffeine fuelled imagination incarnating her characters around her, Hagrid walking in and bashing the lights, swinging them back and forth.
As Harry escaped the Muggle world so did she.
Check the bushy hair!
"Start by writing about things you know about" says Rowling.
Rowling was a teaching assistant in Paris during university, she taught in Portugal, she wrote a book about a school and bushy haired super-swot Hermoine is Rowling's childhood writ large.
Nicolsons is sold
Early after Rowling's arrival she was writing in the cafe Neogciants, the manager wanted her table over lunch because she didn't buy (they liked beloved author Alexander McCall Smith, then a law professor, he paid table rent). Feeling unwanted she left permanently.
Nicolsons was owned by her brother in law, it had perhaps been avoided because she didn't want to impose, well now it was the best option. Rowling toiled her pushchair up the stairs, they happily welcomed her and Rowling found her new home. She grew to love writing there, it became Harry's maternity ward.
In 2003 the lease came to an end. Rowling's sister was no longer a nurse, she had retrained as a solicitor and her husband decided to move on too.
Her brother in law had dotted the walls of Nicolsons with swathes of paper mache flowers. When they shut up shop, he gave Rowling one, and she kept it above her kettle on her kitchen wall. A talisman from where Harry's paper bound adventures had blossomed.
Chinese buffet King
A chain opened up, *ALL* you can eat Jimmy Chung's Chinese Buffet King owned by Eddie Ng. It wasn't a runaway success, lauded as "distinctly average" and "definitely not the most sophisticated of restaurants and the service isn't the best I've experienced".
Eddie really began working the Rowling connection in the media, placing a brass placard outside the door, and inviting people to 'experience the view that inspired a magical new world'.
It kept getting nicked.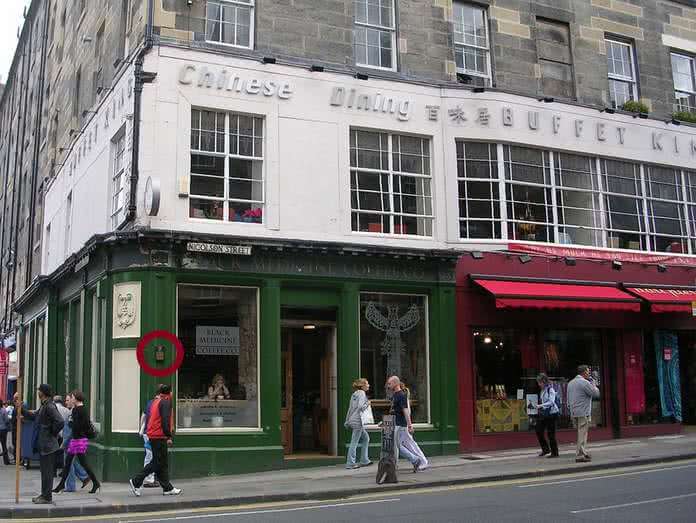 The red circle cradles the plaque to JK Rowling beneath the window where she gave labour to Harry
In 2006 Edinburgh City of Literature revealed one about midway up to Rowling's favourite window, where only Hagrid can reach. As a result many self-guided Potter fans are led to believe the book was written in the Black medicine cafe below Rowling's Nicolsons.
Black medicine have satirised this confusion on their website: "Black Medicine is a coffee shop. Not a pet shop, nor a jazz quintet. It is not a branch of specsavers, and it is not a doctor's surgery."
OK we got it. Where can I change into my swimming trunks?
In January 2009 Eddie threw in the towel. He tried to sell Buffet King to JK Rowling for £1 million, saying it ought to be made a museum to the boy who lived. The offer was declined.
Rowling & the crowd of reasonable voices
While she was writing the Philosopher's Stone in cafes she would chat to the staff... 'I told a few people and I think they thought "Oh my god, she's really on her uppers and now she wants to write a book!"'
Rowling kept her mission a secret, she had a couple of unfinished novels in drawers; while a well liked friend, a fellow teacher at a language school in Porto Portugal, had completed a novel which went unpublished. Her friend's passion for writing became a passion for the Simpsons, which all the staff enjoyed together.
Would Rowling suffer the same fate?
It does not do to dwell on dreams and forget to live, remember that.
wisdom of Albus Dumbledore
All the self-doubt and uncertainty and fears of inadequacy that she endured were proved invalid. The Philosopher's Stone was a triumph. After it was published, she began writing the Chamber of Secrets and said
"I've been back to a couple of cafes and they've said, 'Oh we know what you do now. We just thought you were very strange'."
---
Discover more about Edinburgh & its connection to the boy who lived on JK Rowling's Edinburgh.
Find a Harry Potter tour perfect for you
Price Hacking - you shall go to the Yule ball
I had Charred aubergine & courgette with tomato puy lentils and rice. (GF) (V)
---
Ron: Vegan? Mental.
No Ron, I think you'll find it has letters after it's name because Edinburgh university is across the road. My dinner clearly graduated.
---
In fact the initials G.F. are for a married witch who lived in Chepstow, Wales, she'd eaten here before us. You might recall her from the 1st of June 99 issue of the Daily Prophet. Terror Tours ran an advert, they offer "action holidays for the wizard family with a sense of adventure" like vampire-owned castles for rent in Transylvania.
G.F.'s testimonial claimed her grandfather "enjoyed himself right up until the last moment". The company merely promises a thrilling time and waive all responsibility for any resulting injuries and deaths. - Harry Potter wiki
Ordinarily my meal is £15. I paid £15. But I also had soup as starter for free. Between 17.00 and 19.00 there is a secret pre-theatre menu, if they don't offer it, ask for it. You get 2 courses for £15, 3 for £20.
The trade off is there's only 3 options for each course, but if you like your companion, or want to trap a hot date so they can be properly awed by your menu connected Harry Potter trivia, this is your menu. You are awed right?
Spoon as a cafe
If you're in Spoon to drink there is a 50p card charge if you spend less than £5. It's best to pay together with fellow Potter-heads, or just splurge on the finest carrot cake in Edinburgh.
The only drink Rowling quoted as a regular during the Harry Potter cafe years was Espresso and a glass of water. Rowling was on benefits and espresso remains the cheapest option on the menu. Poverty is a lot like childbirth. You know it's going to hurt before it happens, but you'll never know how much until you've experienced it.
I drink a lot of tea. Sometimes 5 or six cups a day. Apparently coffee drinkers get more done. They also pay more in coffee shops. Not at Spoon. At Spoon tea drinkers have achieved parity with coffee drinkers and the cost about the same.
It's all those hip tea house flavours like Ginger and lemon, mint and chilli, Star anise and cinnamon, it's almost like folk at Spoon care about what they're putting in their mouth, professor Slughorn would love it. In fact there's a comfortable Chesterfield leather armchair in the cafe corner, I doubt he ever leaves.
Spoon's purse loving day menu
Is cheaper than the evening menu. Spoon is busier in the evenings. Before 17.00 you're looking at between £7.50 for a breakfast maxing out at £10.50 for a mixed grill. It's heart disease on a plate, but you'd die in Harry's nursery, having sampled a slew of Scottish essentials: black pudding, Haggis, tattie scone.
The specials menu
Let's face it -
Ron, poor, has a pet rat who needs a pension.
Hermione, super-nerd mudblood.
Harry, rich, as a baby defeated Voldemort by crying.
They're the special gang, they'd be eating the special food.
Well-made rustic dishes with punchy flavours and good ingredients


The rough guide
Generally specials have better than evening menu prices around £11, they're priced on the ingredients and keep locals returning. The chef says they get refreshed every few days and sometimes they run out because it's all fresh.
Do ask for them before making a decision. Especially in the evening, they are bargainous and, well, special.
Today poverty has been banished from Spoon
It moved to Starbucks. The room's time as a Chinese chain was telling, it's a prime location but property prices have soared and even a ruthlessly commercial chain struggled to make the location pay.
As charming and unhurried as Spoon is, whoever occupies the room needs to be commercially minded, to pay the mortgage. They race to keep their heads above water.
If you visit, go with Rowling's open eyes, but also an open heart (my heart is where I keep my wallet). Meals and cake and coffee pay the kind staff and the restaurant's rent.
Today as Spoon
There is a long flight of stairs to enter. There's a stair lift. The staff enjoy working here, professing they don't think they could work anywhere else, and they supervise the stairlift, supervise the dung out of it, keeping Edinburgh's old-ladies under control, 'steady, steady, we don't want another moon launch'.
---
NASA scientist having been working overtime to explain the irregular 'blood moons', it's Spoon's pensioner joy-riders gone splat down. The staff seem a caring bunch.
---
As you rise on your interminable ascent, a wall-mounted giraffe, made of fragments of mirror and a scary metal head smiles down upon you. I asked my friend if he thought it ate tin foil and he said 'no, bananas and grapefruit'. That's why it has such a pencil neck, bit of a Luna Lovegood.
They are kitted out for parents with children and backpackers. There's a large section by the stairlifts' summit, for these things to be set aside.
Professor Alastor Moody's visit
When Professor Moody clomped in on his wooden leg, mad eye swivelling around, the waiter asked if he would like the stairlift, apparently it took quite some explaining and when finally the professor understood he said 'I've lost a leg, not my bloody Gobstones'.
There's quite a bit on stairlifts in this review. I traipse bags and bags of shopping up a old Edinburgh tenement with flickering lights & missing half its banisters. Stairlifts are cool.
Fortunately the staff are a resilient lot and during a lull the bouncy Bohemian cook, proper pirate crew, said "I don't think I could work anywhere else". A waiter recalled Professor Moody was quite reticent at ordering, he eventually went for a latte but then didn't drink it, just sipped from his hip flask. To be fair they are a suspiciously content lot.
Stairs and baby Jessica Rowlings
Some bloggers have thrown shade on Rowling writing in Nicolsons because of the stairs. Well truth is she said her legs would shake from caffine and hunger having hauled Jessica's pushchair back down.
Decoration
It's a bright dance hall sized room, divided up by hippy curtains, bustling with people and noisy with happy conversation. There are shelves with a fine selection of upmarket 80s "Weekend" magazines, with headlines of the like "my weekend with a murderer".
What's more the Rene Machintosh style windows have a design that my mother says looks like the chosen one, complete with lightning scar, this can't have harmed.
If you squint, the boy who lived! Or perhaps my mother has an overabundance of imagination.
Spoon's Toilets
The bathrooms have been made fun. In the gents the cubicle doors are decorated with adverts for train journeys from the 60s. I sat there there going "Choo choo" as the trains thundered out of the tunnel. Naturally.
In the ladies bathroom there are 1960s tampon adverts which are "worth the trip alone".
Ron's bottom humour & Myth busting
Seamus and Dean, who were working nearby, sniggered loudly, though not loudly enough to mask the excited squeals from Lavender Brown – 'Oh, Professor, look! I think I've got an unaspected planet! Oooh, which one's that, Professor?'

'It is Uranus, my dear,' said Professor Trelawney, peering down at the chart.

'Can I have a look at Uranus, too, Lavender?' said Ron.
Pottermore, Harry Potter & the Goblet of Fire
Rowling thought her editor would cut that exchange, because her publishers didn't want any swearing in the books, it would repel parents. Her editors were historied in mutiny, in the first book they'd asked to cut the Troll in the toilets, while Ron's too naughty violent bishop trod on shaky ground. But her editor loved this scene, she laughed out loud.
There's an internet myth that there's a version of the books with lots of swearing. Rowling felt it would be in character for Ron to swear a lot, and so in the latter half you can see her working around her publisher, with Ron's cursing cut off by his mother Molly, or quick "Rons!" from Hermione.
In the last few books Rowling doubled down on the problem inventing many sacrilegious references to Merlin's various bodily appendages that made parents laugh. Invention conquers difficulty.
A grand arrival
It was the evening, Spoon is popular, they had reservations so we waited to be seated and were guided to our table.
The Great Feast
I ordered from the theatre menu, a main and starter for £15. I chose soup to start, a troubled expression seized our waiters face and he clasped his hands, he had another agonising choice to present, which soup?
I dispatched it like a Death Eater on firewhisky and our waiter's face flooded with relief. The wait staff care, like really really care, they're almost as good as House Elves. But not quite. House elves don't bill you.
My friend has:
Black Haggis with Jerusalem artichokes, chorizo, potato and cherry tomatoes.
My worry with fancy restaurants, with ingredient lists the length of the cast of a short film, is they'll gut my wallet and the portions won't fill.
Banish that idea. Spoon - I've not seen so much Haggis in my life. A great meaty mountain of it.
I tried some.
What is haggis?
Haggis is the liver, heart, and lungs of a sheep ground up and mixed with the white fat from cow kidneys and loins, and then oatmeal bulks it out giving it a wonderful crumbly texture. Then it's seasoned with onion, cayenne pepper, and other spices. The mixture is packed into a sheep's stomach and boiled.
It's Scotland's gift to the world.
I took a spoonful of my friends Haggis, it tasted really beefy.
Traditionally Haggis was a highlander dish, for poor folk who slept rolled up in their kilts each night. They used every bit of an animal, and became masters at making it taste wicked.
This was high quality Haggis but the taste was overpowered by the chorizo. A contrast of flavours rather a compliment. There was also an ocean of baby tomatoes, I guess this is Spanish Scottish fusion, my friend had to fight me off.
My Aubergine was the perfect mastication food, I broke the tough black skin and the pulp spread across my mouth dancing a Calypso on my tongue. Each crunch was like the Conga coming around again. I didn't visit to dance a Conga, but my mouth was very happy to do so.
Paying
The summit of my ambition was handing my credit card to someone one day and them saying: 'Oh my God, you wrote my favourite book'.


JK Rowling
Like many fancy restaurants, Spoon seeks to be a light touch. While the food might be magic, the staff haven't developed Legilimency. So if you want to depart, flag a waiter down. If you're paying head to the counter, if you're paying by card a waiter would just have to yoyo back to the counter for the card machine anyway.
Spoon and the Edinburgh Festival
It's bang in the middle of things during the largest arts festival in the world and people eat here between shows. You can star spot but it becomes absolutely heaving. They try their best but they're victims of their own success, please be kind, and don't be shy about waving waiters down, or ordering at the counter.
For the best experience I recommend visiting closer to opening or closing (scroll to the bottom of their page).
Booking Spoon
If you have an important event planned please book a table, especially over the summer, festival, and holidays. When hen parties are excited about the idea, I always get them to book Spoon, to avoid disappointment.
---
The initial idea for Harry Potter came on a train from Manchester to London. One account has it Rowling didn't have any paper on her and jotted it down on a napkin but quickly ran out of space.
---
Is Spoon worthy of spooning?
Spoon is a popular restaurant, every year a new generation of comedians & artist at the Edinburgh festival write it up in newspapers as one of their top 10 cafe and restaurants for breakfast and lunch. This keeps Spoon's acclaim undimmed.
It's an interesting 1950s retro chic room, I imagine Slughorn is very happy in his corner. If you have a few people, reserve one of the round printed map tables, they're a particular talking point. And there's some comfortable chairs & sofas for coffee in the Slug-club.
When I visited the staff were friendly, concerned and good natured, deserving of love. I asked the owner for a meal discount for tours, but the day menu is already so well priced, popular with the local skin-flint students, that they wouldn't benefit, just exhaust themselves.
The food is better than Hippogriff feed.
Or at least no worse.
If you visit don't forget to toss the metal giraffe a melon on the way out, I didn't and the bugger nipped off my hat.
As the comfortable Chesterfield would quote "constant vigilance"
Spoon & JK Rowling today
I asked the staff if Rowling's ever been back, she hasn't.
"Today we have had three groups of people come in and ask about it, but promoting it is not really for us." - waitress Molly Lambert
At the book release for Harry Potter and the Order of the Phoenix Rowling was asked "if you could have any superpower what would it be?" she replied "Invisibility, and it is a little bit sad, but I would go to cafes and write all day".
She may never have returned, but part of her never left.
Rowling's cafe legacy
Rowling continued to write in cafes around the city for some time and said: "I feel a bit superstitious because that's how I wrote the first book and I don't want to break the run of luck".
Today she borrows names for characters in her Robert Galbraith novels from waiter and waitresses name badges.
Is Rowling haunted by Spoon?
JKR: "For years now, people have asked me whether I ever dream that I am 'in' Harry's world. The answer was 'no' until a few nights ago, when I had an epic dream in which I was, simultaneously, Harry and the narrator. I was searching for a Horcrux in a gigantic, crowded hall, which bore no resemblance to the Great Hall as I imagine it.
As the narrator I knew perfectly well that the Horcrux was jammed in a hidden nook in the fireplace, while as Harry I was searching for it in all kinds of other places, while trying to make the people around me say lines I had pre-arranged for them.
Meanwhile waiters and waitresses who work in the real cafe in which I have written huge parts of [the books] roamed around me as though on stilts, all of them at least fifteen feet high.
Perhaps I should cut back on the caffeine?"
---
A great crowded noisy hall, sounds a lot like Spoon doesn't it?
It also fits the third cafe she took flight to, like a glove. Discover it on my 4 hour Complete Potter tour, for those for whom Harry is family.
Find a Harry Potter Tour perfect for you
Spoon Edinburgh - pure class
Harry Potter sights nearby
The Elephant House cafe is 6 minutes walk and serves food if Spoon is overflowing. Spoon is nicer for meals though, if a few pounds more.
Teviot Row House is 5 minutes walk. It's Scottish palatial gothic architecture is very much Hogwarts, and it's Britain's oldest student union building.
Divine Rowling's future with a palm reading at JK Rowling's Edinburgh Award; 7 minutes walk.
---
Visiting? Choose your Avatar so we know how to greet you.
Multi-nationals, based outwith Scotland, such as Sandemans have run tours which breach Scotland's First Minister's guidance, thereby spreading disease. 153,000 UK citizens, no small number, have died. Members of people's families gone forever.
Local companies have endured having their guides on their tours, taking notes, to help build their own versions. They call this 'sieving' or 'filtering', their partners believe they 'do it properly' and are... sieving for gold?
This reduces local tour operators & Scotland 🏴󠁧󠁢󠁳󠁣󠁴󠁿 because their guides get little, much of the profits are sucked abroad. It also harms honest - originated the work - competition, because the multi-nationals lean on a cartel they've built with hotels & hostels. These partners, some 'pocketed' for a fee, spotlight multi-national's 'sieved' tours, building their review dominance.
There's little motivation to do original work if you expect the work won't pay. We're being sieved to the bottom. There's little need for tourism if its gift is congestion & hardship.
Please do not visit & norm 'sieving'.
If you go on a multi-national's tour you are helping pollute Scotland's culture & empower brands who kill 🤢
Work should pay 💪
Reject the fatcat cartel 😾↔😼↔😾 Prefer local tour providers who would love to host you, or maybe just use an app.
Go well
Sam
Comment
Was this blog interesting or useful to you? Could it be bettered? Please react, it encourages me to improve.