He turned to smile at the tabby, but it had gone. Instead he was smiling at a rather severe-looking woman who was wearing square glasses exactly the shape of the markings the cat had had around its eyes. She, too, was wearing a cloak, an emerald one. Her black hair was drawn into a tight bun. She looked distinctly ruffled.

Harry Potter & the Philosopher's Stone
Who is William Mcgonagall?
William Topaz Mcgonagall was born and died in Greyfriars parish Edinburgh. But he moved to Dundee finding work as a weaver. One day a strange feeling stole over him, and "a flame seemed to kindle up my entire frame with a strong desire to write poetry". A legend began.
McGonagall was born in 1825, 110 years before his relative Minerva; he has a long face & similar sharp features
Mcgonagall decided he needed a patron so wrote to Queen Victoria, a court functionary wrote back thanking him for his interest. Thanked by the Queen!
In 1879 during a visit to Dunfermline the Chief Templar mocked him and told him his poetry was very bad.
Robust McGonagall retorted that "it was so very bad that Her Majesty had thanked McGonagall for what the Chief Templar had condemned."
McGonagall decided that he needed to enhance his reputation further, and a live performance before her majesty would do it. In 1878 he walked the 97km from Dundee to Balmoral, over the Cairngorm mountains and through a violent thunderstorm to perform for Queen Victoria.
Mcgonagall presents to the Queen
When he arrived he announced "I am the Queen's Poet!"
The guards informed him "You're not the Queen's poet! Tennyson is the Queen's poet."
Mcgonagall presented his letter, but was refused entry and returned home.
He struggled for money and ended up working in a local circus reading his poems while the crowd chucked eggs, flour, herrings and stale bread. It got out of control and Dundee magistrates banned his performances.
William becomes immortal
Almost bankrupt he was finally published, striking a hit with a poem commemorating a horrific rail bridge collapse:
Beautiful Railway Bridge of the Silv'ry Tay!
Alas! I am very sorry to say
That ninety lives have been taken away
On the last Sabbath day of 1879,
Which will be remember'd for a very long time.
A rush of books followed, suitably titled 'Poetic Gems' and the people of Dundee finally recognised him as "So giftedly bad, he backed unwittingly into genius"
JK Rowling said it was irrisistable that the great and brilliant Minerva, headmistress of Hogwarts, would somehow be distantly related to our brilliant buffon William.
Why we cherish Professor Mcgonagall
A tall, black-haired witch in emerald-green robes stood there. She had a very stern face and Harry's first thought was that this was not someone to cross.


Harry Potter & the Philosopher's Stone
Why was Mcgonagall's animagus form a tabby cat?
Ani-magi often transform into the same animal as their Patronus because the form is determined by the same inner-traits. Peter Pettigrew learned, or was probably coached, to become a rat foreshadowing the betrayal of his friends; while Minerva Mcgonagall is shrewd and intelligent.
Muggle studies 101
Between 1551-87 the Swiss naturalist Conrad Gessner wrote one of the earliest zoological texts. He was the first to use woodcuts for illustrations of animals, thus providing enough detail to identify them and his work jumped across the channel.
His English translator, Edward Topsell annotated his entry for felines with 'The familiars (servants) of witches do most ordinarily appear in the shape of cats, which is an argument that the beast is dangerous to soul and body'. Elsewhere Gessner added 'men have been known to lose their strength, perspire violents, and even faint at the sight of a cat'.
Well they can be spooky.
How did Mcgonagall become an animagus?
It requires supreme dedication to become an animagus, the process can take years and has ended in disaster, with permanent half-human half-animal mutations.
It begins by holding a Mandrake leaf in your mouth for an entire month
This is then spat into a vial within range of a 'full moon's pure rays'. If it's a cloudy full moon it must start over.
There's a whole bunch of wise, sensible, prudent preparation then it ends with the witch chanting the incantation "Amato Animo Animato Animagus" with the tip of their wand placed over the heart during an electrical storm.
Easy peasy.
Mcgonagall's animagus form is, however, imperfect.
Minerva has square markings around her feline eyes where her spectacles sit, lending her a little extra air of authority.
Due to the complexity of the process to become an animagus, and it's limited usefulness, there were only 7 Animagus in the 20th century.
The most influential unregistered, animagus is Rita Skeeter, she transforms into a nasty little beetle. "Appropriate for a reporter who scuttled merrily over the misfortune of others and fed on trash" - Pottermore.
To learn more about the inspirations for the love of Harry's life, Ms Skeeter, I'd love to join you on a Potter tour. But you don't have to, the internet is a treasure of information.
Riddle's Court & Dame Maggie Smith
the hard boiled egg
Maggie Smith loved playing professor Mcgonagall. Early in her career, in 1969 she won an Oscar for playing the strict Edinburgh girls-school marm Jean Brodie. Much like Mcgonagall, Brodie dresses smartly, welcoming a new class to the school she says "Little girls, I am in the business of putting old heads on young shoulders."
Maggie reflected on Minerva Mcgonagall saying: "She's just like Miss Jean Brodie with a witch's hat".
So do you think headmistress Minerva Mcgonagall's middle name is Topaz?
When I started out it wasn't about fame it was about acting. What is required of actors today is beyond credence. If you want to act these days, it seems to be vital that you tell the world everything about your private life and remove every single garment you possess while you are about it.


Dame Maggie Smith
There's a point where you exceed snot and become a beloved national treasure, you're too unreal not to be cherished. That's where Maggie sits.
Outside Riddle's Court at festival time, where Maggie Smith honed her craft at the Fringe in the 1950s
Above the lego arch it says "Vivendo Discimus" - By Living We Learn
For a time Riddle's Court was Edinburgh university accomodation, it's now used for adult education.
Chemo & the Harry Potter years
When Harry Potter came out kids in the street asked Dame Maggie to turn them into cars. Asked how she liked the hype she grumbled "Harry Potter is my pension."
JK Rowling fought the screenwriter Steve Gloves to have Mcgonagall, not Harry, fight Snape when the ministry takes over Hogwarts after Dumbledore's death. She wanted the women to be as powerful & valiant as the men.
Snape wasn't the only battle Maggie was fighting, breast cancer began fighting her during the filming of the Half Blood Prince. She was in her 70s and it knocked her sideways, she was holding on to railings, thinking 'I can't do this'.
Maggie said "There are advantages to cancer, you know. My chemo cheered up the makeup department on Harry Potter because the wig went on a great deal easier without a single hair on my head."
What do witches keep beneath their crooked hats?
Dame Maggie kept a boiled egg.
We love her, her grit and snottiness is wonderful and her acting effortless.
Maggie Smith is Professor Mcgonagall
Maggie Smith has won seven BAFTA awards, two Oscars, two Golden Globes, two Emmys, two SAG awards, an Olivier Award and a Tony.
Professor McGonagall won order of Merlin first class and her own chocolate frog card.
Maggie said that the role of McGongall has changed her life, giving her career an Indian Summer. And, rather wonderfully, she is the part...
For 1 minute 10 seconds Maggie talks about Harry Potter
Where McGonagall began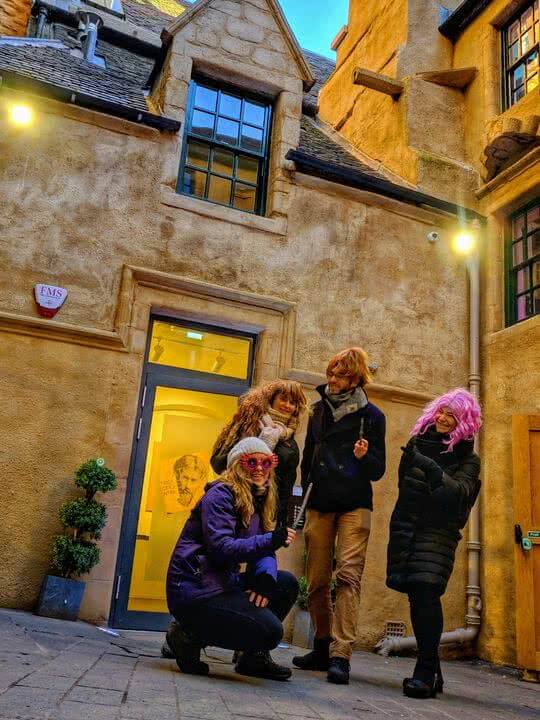 Riddle's Court, Maggie Smith slept & performed in the same space
Riddle's Court Edinburgh, just off the Royal Mile's Lawnmarket is a 16th century courtyard, named after a wealthy tradesman George Riddle. It's fabulous, come on a tour and see where national treasure Professor McGonagall first trod the boards.
Book a loving Harry Potter Tour
Harry Potter sights nearby
Directions to the grave of He Who Shall Not Be Named.
Cast a disillusionment charm and watch Hogwarts materialise - Edinburgh's strongest contender.

Art Credits
---
Comment
Was this blog interesting or useful to you? Could it be bettered? Please react, it encourages me to improve.