A visitor from New Zealand told me "Everywhere has castles, there are two unique things to do in Edinburgh, the underground city and Harry Potter". Well actually Seattle has an underground city, so that just leaves one...
Potter trail was formed in 2012, they are the trailblazers, thus having more reviews from happy customers.
Potter tour formed 2017 and I love every last one of my reviewers from their eyebrows up.
Pottertrail has HUGE groups, it's like going to the Quidditch world cup, their guides probably have whistles & referee.
Potter Tours are limited to a dozen unless something goes awry. If you're interested you can get individual attention.
Pottertrail is for tips so you can walk away with no loss.
I get everyone to swear an unbreakable vow at the beginning of my tour, if you walk away, you die.
Potter trail has won certificates of excellence from Tripadvisor for a high number of good reviews.
So have I.
Potter Trail has an award from 'THA' for hospitality; never heard of them.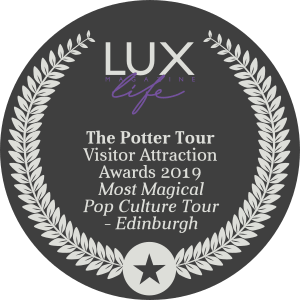 According to LUX life magazine I'm best in class family & visitor attraction; never heard of them either. But bless them!
Potter trail is 75 minutes with a flatter route. Less walking arguably makes it better suited to those who are disabled or who have a casual interest.
I have 'The Complete Potterhead' a 5-6 hour activity tour for witches & wizards on a pilgrimmage. My tours are longer, I like reviving the magic sure, we do some wand work on the tour, but I love what Rowling's life has to teach.
Potter trail is fun and Funny.
I hope to provide something useful, perhaps inspiring and worthy of spending more time on. I want to make memories, laughter is satisfactory.
Potter tour's longer tours take in many more sights.
However Potter trail includes Favourit cafe and many Edinburgh ghost stories I don't. These are all good things.
This was a wonderful surprise, my first review from someone who has been on both tours & I'm very grateful for it
According to Will, one of the Potter Trail guides, I have "nice robes".
Never has Sam been complimented by a wizard — like an equal!
Bless you master William. Master has nice robes too.
Oh Good Lord.
OK well Sandemans are a multinational based in Germany? Spain? They have an excellently rated historical tour and a well paid executive class. Too often their 'serf' guides, paying £3 per head for each customer, earn less than the legal minimum wage. Their company makes us poorer and their guides make the world worse for people who live here.

Is it run by Grindelwald? No.
But they could be.
My tours are run by me. I'm pretty bad too. If you do a quiz on my blog like this, you can see I probably idolise Alan Rickman too much. But he's just sooo silky.