In the footsteps of JK Rowling
---
comprehensive award-winning tours
,

on the writing of harry potter
"
This tour is a fun fusion of creativity, wit and a passion for Harry Potter! Not only was the tour guide creative, funny and knowledgeable, but he also provided us with so many sweet surprises along the way!
We made our way to various historic sights in Edinburgh all the while listening to informative stories that will certainly delight seasoned wizards or simply Muggles looking to learn more about British culture.
Having been to many Harry Potter related activities (Universal Studios, The Cursed Child, etc), I can confidently say this is one of the top Harry Potter experiences!
Our tour had children, adults and seniors and all of us found something to enjoy. There is a lot of walking involved and at times you will need to listen carefully, but you will certainly be delighted that you did this. Sam's creativity is contagious!
"
"
Make It Epic
In Edinburgh, you can step from the page's sketches to skylines mushroomed with stone Wizard towers in the twinkling of an eye. But what's inside a mind that's personally earned us over a billion in taxes? How does it work & how does it think?
Explore the literary witchcraft of the world's most beloved novels on Edinburgh's speediest Potter tours.
The Potter tour hallows
JK's struggles
How to roll with setbacks
& succeed as a writer.
What defines a good person.
Beat the odds with priority
What can we learn from
characters' flaws & fate?
Social activism: lifting lives.
Free thought vs fascism
Rowling's work
teaches: how to be inspired,
obsess to grow originality,
break through blocks,
stay focused
Master wandwork; trace
the mythological roots.
Potter-pilgrim traditions
& Sorting ceremony
Disaster & blood ties propelled JK Rowling to a new country. Love, generosity & a Christian community nurtured Harry through a difficult labour; Harry haunted by tragedy much as Rowling was. Edinburgh's cobbled closes, stone turrets, higgedly piggedly slate roofs nourished Harry's burgeoning kingdom.
Explore the themes of kinship, love, poverty & transcendence through The Boy Who Lived & the Mother he saved.
☞︎
Mostly serious tours for book readers or those who can endure one. Create memories that linger.
Skip to the 8 hour tour
As reported in:

THE TIMES
JK Rowling is a moderately influential woman who's sold a few books & lives in a tepee... in... Bangalore? No?... Alaska??

On this tour we dive deep into her history.
Learn to use failure as a springboard, be inspired, stay committed & conquer the world. Discover the revelations that enthused her & the cafés which fueled her. Experience how, through grit & failure, buoyed by friendship & love, JK Rowling left footprints upon the world.
Over 4¼ hours learn the entire genesis of Harry Potter, from lightning striking on a Manchester train to becoming a pillar of British culture & shaping a generation.
Edinburgh's cobbled streets, winding alleys, our looming dramatic castle. The city offers many Potteresque vistas


JK Rowling
Explore 40% of Edinburgh's Hogwartian old town, discover fabulous gothic scenes off the Muggle-track. Witness the 'Potteresque contours' of Harry's heady new world.
Learn how an unhappy marriage broke the waters on the worlds' most beloved books.
Feel how Rowling's grief deepened the stories.
Unpick truth from bloggers' beguiling whimsy & discover the ideas & mythology that truly inspired Rowling. We'll visit the Museum of Scotland & the monks' herb garden for illustration but may resort to a diagram of JK's head.
Weekdays on request: we can visit Old Parliament hall & learn how British history informed the history of the wizarding world
Cower in terror as we meet dragons, sphinxes & a unicorn. (outside mating season)
They only gore folk they like. Now lie still, we'll have you up & galumphing in a shake of me brolly
Wouldn't it be cool if Rowling's thoughts and example could empower you to lead a more fulfilling, rewarding life? Wouldn't it be cool if there was a tour that showed the way?*
We carry all the power we need inside ourselves already


JK Rowling
* I want to go on that tour.
If you're considering a tour for somebody you love, who has read the books and loves Harry Potter, then you tread in the footsteps of others, they are legion. No terrible reviews so far (touch a wand, all the wands).
It's a lot more dark & gritty


kind PotterTrail guides compared
The more difficulties a person has overcome, the more you can learn from them. My tour has darker stories from Rowling's potentially instructive biography, which I hope will inspire those ready to achieve more.
Private tours were chosen by the staff of:

day money back promise


Guaranteed

No Quibbler
If you book through my website and at the end you feel my tour pongs like Merlin's saggy pants I want you to ask for your money back. I want my fellow Potter-heads to have a 'Theôria', a sacred journey & a singular experience; it can be useful to know when I fall short.
Hold your Hippogriffs! Sam attempts to levitate a feather. Oh no. 2:50 seconds
Trophy room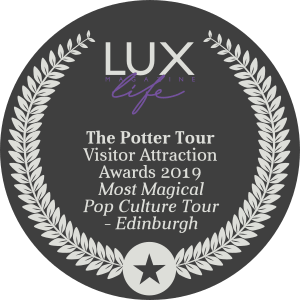 Reconsider Harry's saga from a newer perspective, based upon Joanne Rowling's trials and tribulations.
If you book via my website I lose 8% in transaction fees, if you book via international tour platforms they take a 26% cut...
So I'd love you to book here.
For this long tour to break even on Tripadvisor, their resales are priced at a premium; Tripadvisor doesn't want me undercutting their resale price here, thus, off-peak, it's a tour for ardent fans who priotise their Edinburgh Potter experience.
If you have time to arrange a private tour for a family group, my rates are kinder than those Tripadvisor lets me offer publicly. If they're book loving fans maybe enquire about my 5½ or 8 hour tours.
It's a niche tour, if you're travelling solo booking me off-season can be tricky. If someone's already booked it is possible to book for one.
You're most welcome to...
Contact Sam
Starts top, besides the statue of the Duke of Wellington on his horse Copenhagen, opposite the Balmoral Hotel
I wrote this tour for you.
This tour has a good amount of stairs up the side of a volcanic vent to Edinburgh Castle's esplanade. Don't worry, if we need to amputate your legs the Royal Infirmary will give you a Mad Eye too. If you make it down again and survive to graduate you'll have seen over 50% of Edinburgh's gothic fantastic, the Hogwartian Old Town.
In addition to all that's on the shorter tours this includes:
The Witchery
How community lifted Rowling
Fantastic Beasts & the cross of success
The motivation for The Daily Prophet's Rita Skeeter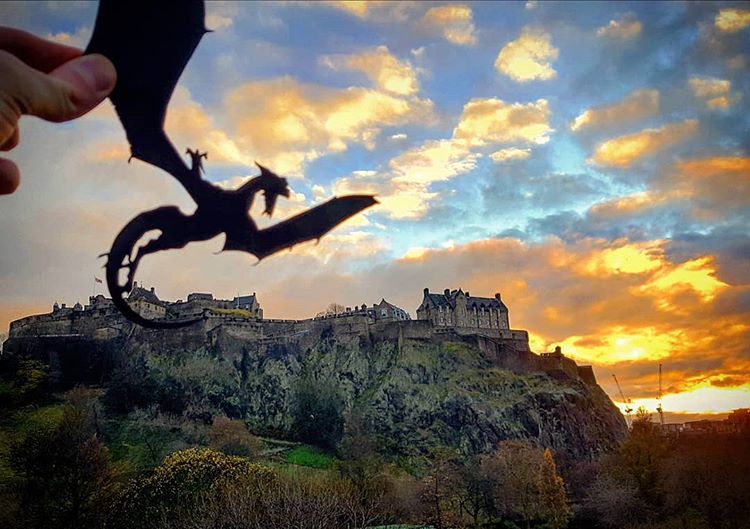 There's a Castle in the city where Harry Potter was written. Hmmm. Wonder if its special in any way?
Inhale the sweet scents at our Witches fountain (fires of execution usurped by the water of life) & discover how Rowling used our witch trials to add a texture of reality to the Wizarding World.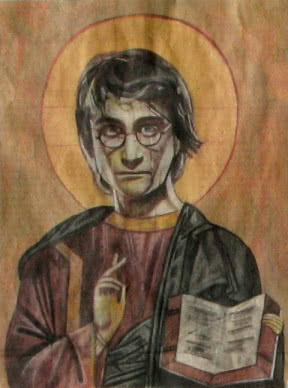 JK Rowling never wanted to be a witch but says she was fascinated by alchemy. Explore Rowling's Christianity
Book a Thursday & we can even drink the blood of Christ like Rowling (& Sanguini?), when booking simply ask for the JK Rowling Eucharist™
It has more on JK's writing process:
A tool to convert cliché to originality
A strategy to overcome writer's block
A mindset for using failure like a piston
A fistfull of illustrations of transmuting misfortune into story beating with heart
It may even transport you to a magical world, at least if the wind from Edinburgh's 11 breweries is blowing the right way.
---
It's been popular amongst generous parents seeking an entirely forgettable rite of passage, visiting teachers who teach the books and passionate fans on a pilgrimage wanting a thorough exploration of Rowling's influences.
It stops at Nicolsons (maternity ward of the Philosopher's Stone) or the Elephant house cafe (Chamber of Secrets) for games, a great feast &...
Dear JK Rowling
Thank you for making me feel less alone. You are a life saviour. Also thank you for all the magic in my life.
Love Elsa

Elsa was inspired by Hermione and is now studying to be a Dentist in Mexico. She's full of soul & gratitude; through turbulent times Harry Potter has been her solace. Elsa touched my heart.
Perfecting a witchy song for the school choir in the style of Shakespeare's Macbeth
Donning beads, bangles & thick thick glasses to attempt Tessomancy. "Can I have a look at Uranus too, Lavender?"
Purify ourselves by conjuring a wee tsunami to the tune of Swanlake.
I admit these can be a stretch for first years, but stretching makes the witch.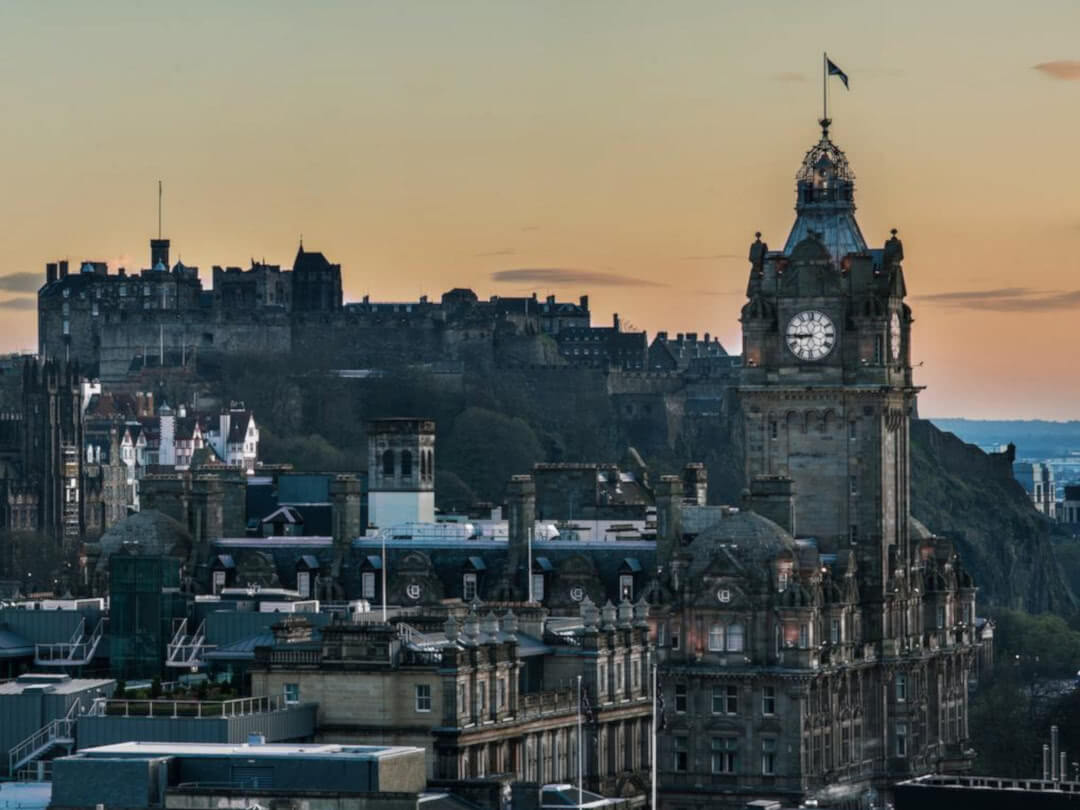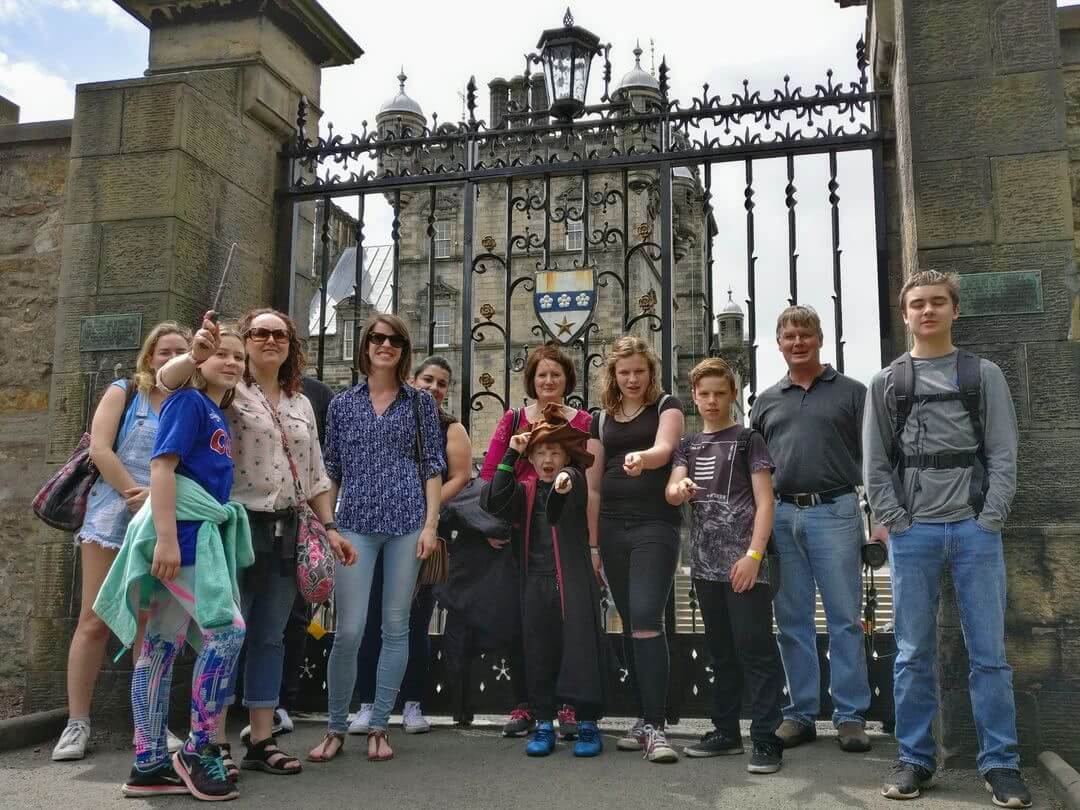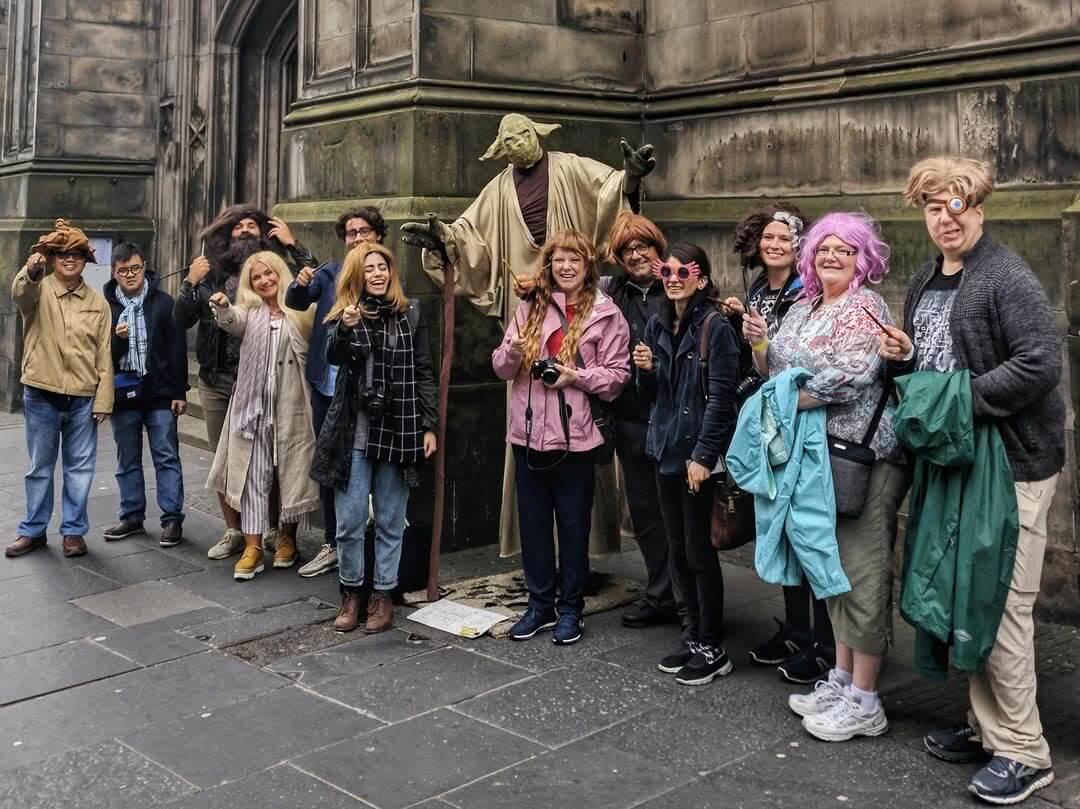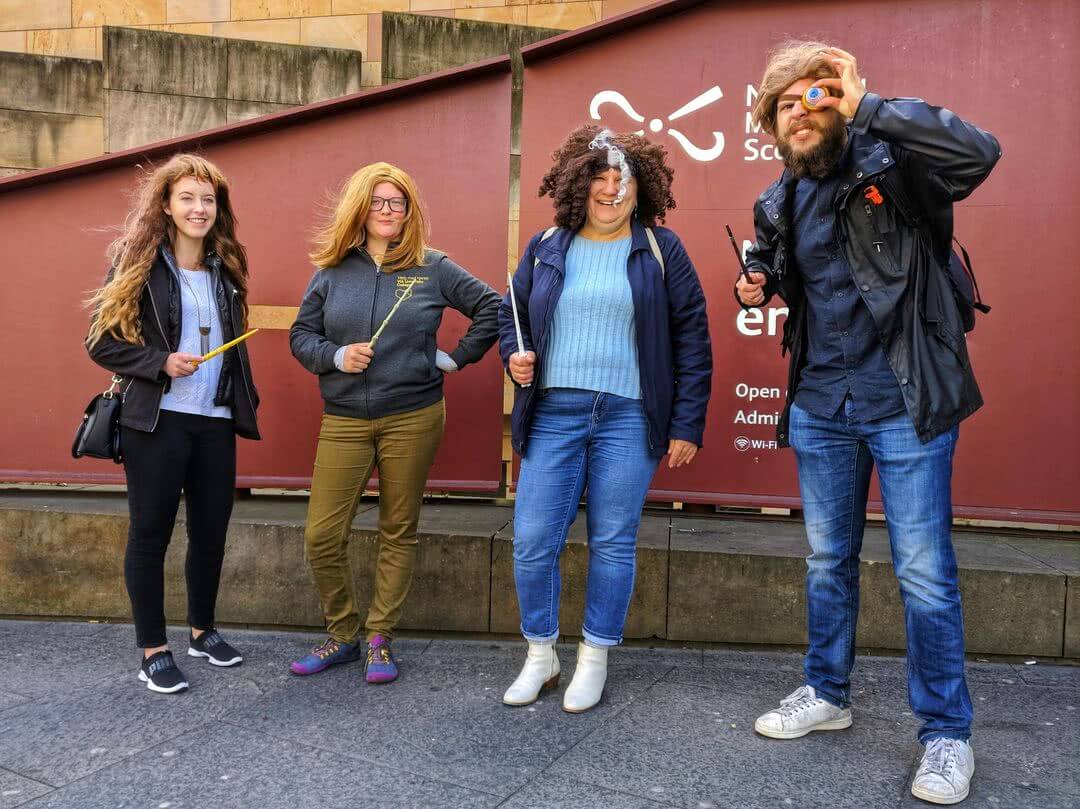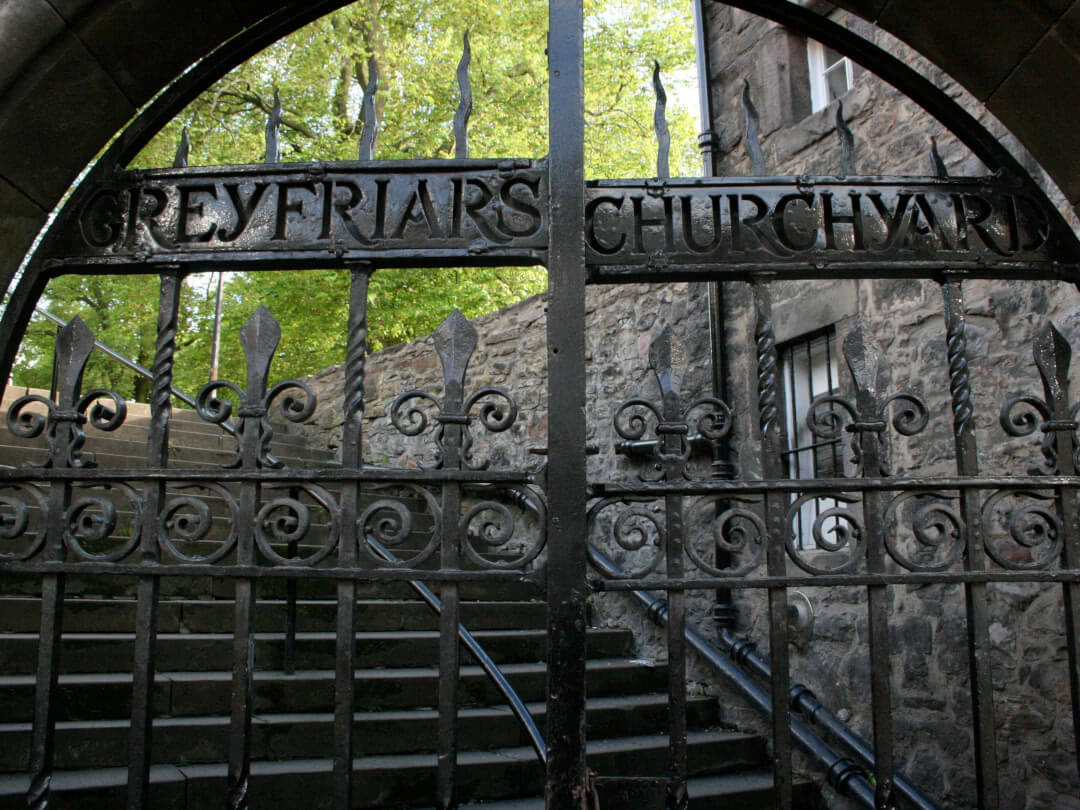 Why?
I like doing this tour because it's special for me. I like the magic, I like the extra stories & hell, to me the creative heavy lifting is in the writing, the books are not unimportant, I think their creation & inspirations merit scrutiny.
Pricing
Warner Brother's Harry Potter studio tour like my tour is luxurious & fills a day, their complete package costs £53, for a family of 4 it's £150.
Merlin's beard, that's nearly half the price of a Firebolt! No actually, it is HALF!
The Potterhead is not inexpensive. For 1 person it's £100 🤯 For 2 it's £100, £50 each 😱 But the price increase is astronomical minimal for each further person, upto 8.
The better question is 'It's 7½ hours, do they have the interest?'
Lunch & a non-alcholic drink is included for bookings of one 🎁 If you want to bring company, cool-cool! 😎 You buy lunch, £10pp 🫂 For desert we'll gorge on Borders' ice cream.
The celebrated Elephant House cafe is closed for loving restoration, so we'll lunch in Rowling's beloved Nicolsons. Nicolsons menu 🍚
The best days to do it are Tuesday to Friday because there are more venues open to go inside. Failing that Saturday beats Sunday & Monday.
The lunch activities are only meaningful if at least one person in the group has read all the books. Having read the books also makes it easier to enjoy this level of detail - Rowling's characters & world have inhabited your imagination for longer. Edinburgh is home of the books, the films are some dirty London thing 🧼
I'd love love love to host you. If I could I'd dose you with love potion 🧪
For booking or questions...
Contact Sam
If you just thought 'But they were in different years!', then you are truly, insufferably, insane.
You should come on my tour.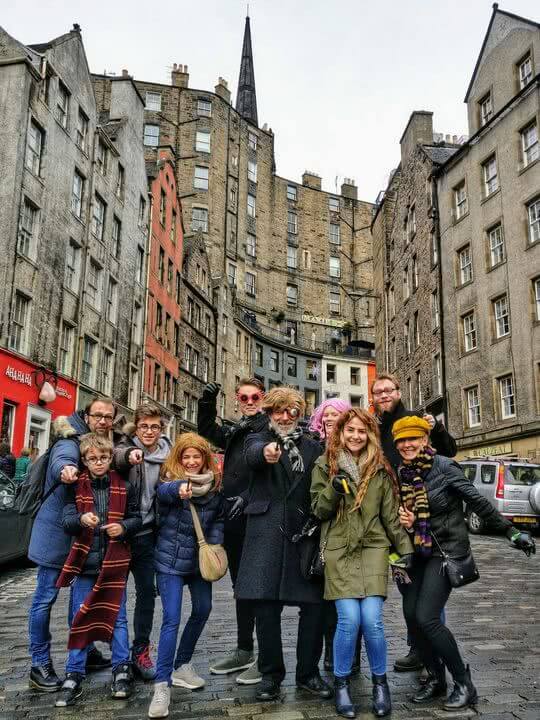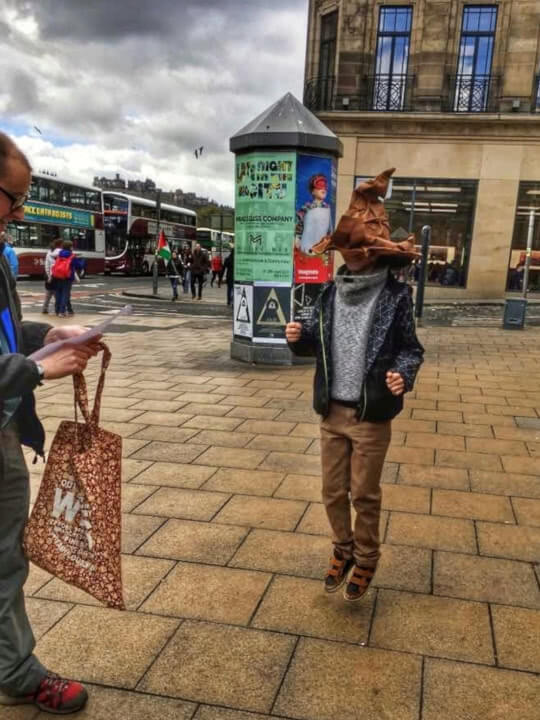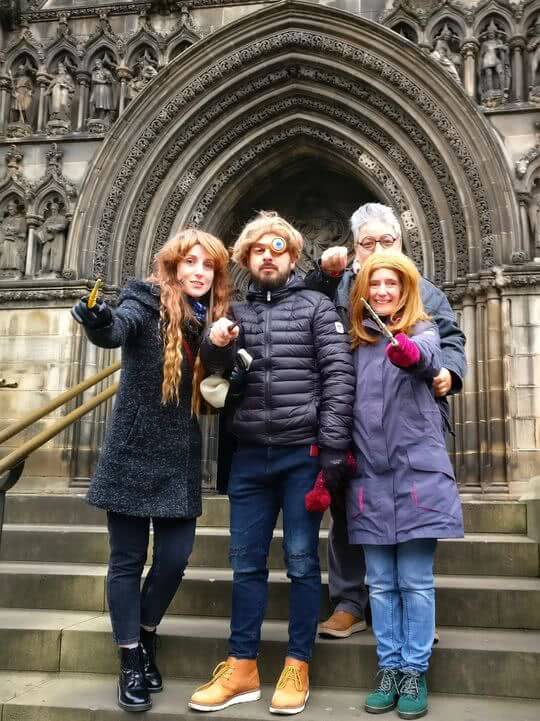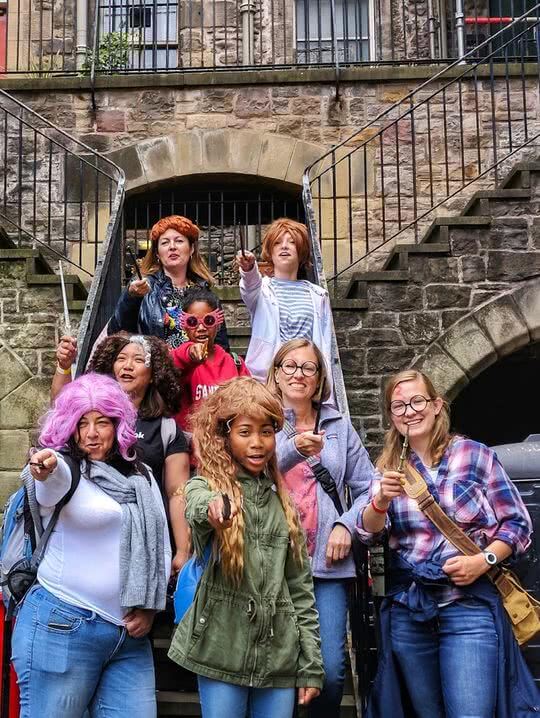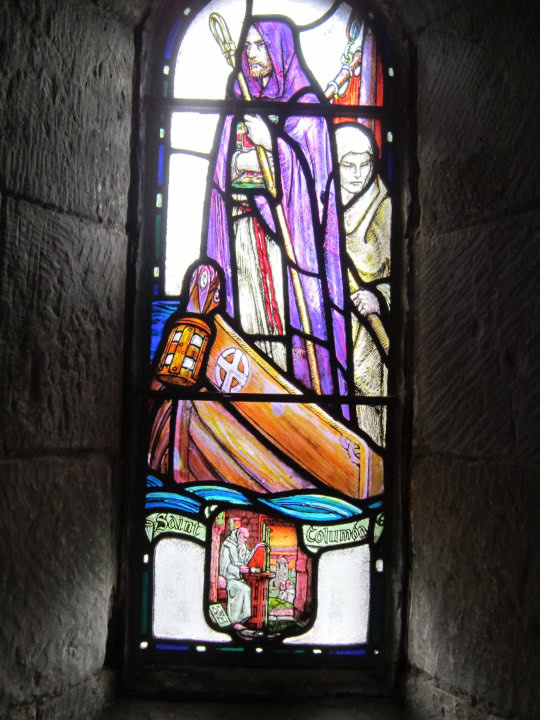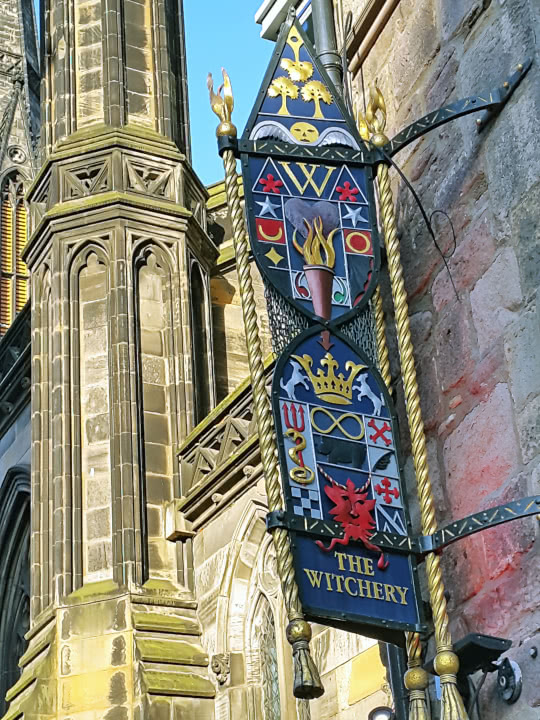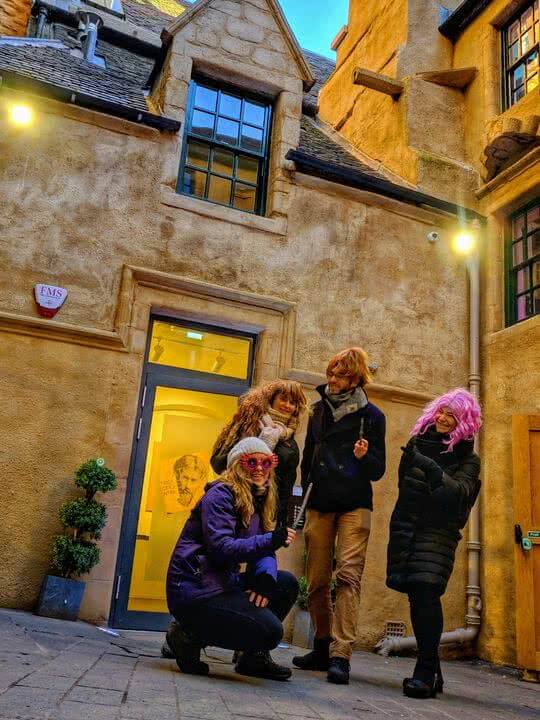 A lot of JK Rowling's story, a touch of mythological inspirations, but a larger proportion of Edinburgh's well trod, traditional 'Harry Potter trail'.
We'll visit the 'Harry Potter cafés' & learn why Rowling loved them so intensely. We'll see McEwan Hall where Rowling graduated. My neighbour Otis was also there, graduating with a degree in Education, he says he was honoured to graduate with her; you'll learn JK's thoughts on life.
A key part of Edinburgh's 'Harry Potter trail' is Greyfriars Kirkyard. Rowling has disowned, we'll explore this. We'll see Hogwarts, no more! You'll learn Rowling's true association with the school.
We'll visit the library Rowling armoured up for rejection in and learn the daily rituals she exercises to honour her desired epitaph.
High above twisty Victoria Street we'll see why proprietors crowned it Diagon Alley, fans greeted it as a homecoming, & explore why Rowling decapitated it. We'll visit 16th century townhouse Riddle's Court - I wonder why? Finally we'll witness why Rowling's hands cause such a stir.
Lit by a torch of truth & motivated by a fan's heart of love we'll see everything whimsical bloggers write about & a few things stranger. A decent arc of our historic Old Town Rowling wandered betwixt museums, writing & cheap coffee.
It's been most popular with seniors, leaving them the time & energy for cafés & castles. And guardians of pre-teen boys who'd most like 10 hours of dueling lessons followed by Dragon wrestling, bless them.
It seemed more adult


Ina Bloemer, Edinburgh university student organiser chose Potter Tour
Drink in the scenes & atmospheres JK Rowling broadly credits for gifting a more tart gothic flavour to Harry's true home.
Contact Sam
As featured in the:
Do you visit the grave of He Who Must Not Be Named? You bet your Longbottom. But gain a more meaningful experience from the journey of the world's most renowned author:
What does Butterbrew ice cream taste like? ❤️

Merlin's beard book! Why choose me?
---
☞︎

More Rowling, more of her inspirations, more magic, more memories.

Art Credits
Old Parliament Hall illustration from the magazine The Graphic, volume XIX, no 479, February 1, 1879.
Harry Potter in the style of weeping Jesus came via a blog & is by an unknown artist. If it's you, I bow to your talent, please contact me.
The talented Jonathon Higgins for the dragon flyby of Edinburgh Castle. Sweet riding skills bro.

Disclaimer
While this tour is inspired by Harry Potter and designed for Harry Potter fans to have the best visit, it is not endorsed by or affiliated with Warner Brothers. While I'm a fan, and would love to go on a tour of Edinburgh with Rowling or even Pottermore, I'm not associated with them, or JK Rowling's publishers' either. Besides I want her to keep writing fantastic Fantastic Beast's movies.

The tour is a scripted tour which is my highest achievement and due to the passage it took to create it, my life's work. Please do not reproduce or copy my tour, if you wouldn't want to be stolen from and devastated please don't help the Dungs of this world do so to me. Review it instead, that's the greatest tribute and help.

Potter guides & aspiring guides, please go elsewhere. As a fellow human I love you and want the best for you, but becoming successful as a Potter guide is a struggle, it's Tri Wizard tournament competitive and it's hard to be as big as Cedric Diggory, and look! He ended up deid.

Magic ✨
The magic on this tour is simply that, magic. All magic is illusion and any Potter style claptrap I may say on the tour should be taken in the spirit of fun and does not DOES NOT overturn the laws of physics or finger God.

May Merlin bless us all.

Tap, tap, tap the wand that's eldest of them all
Poisonous roots & hollow branches,
sculpted Death's divine tool.

If your clumsy magic puts you in the wringer
Limber up that magnificent index finger.

Book Now